Amazon Lex Chatbot
The first chatbot was created in 1996 which was named 'Eliza'. The purpose of creating chatbot is to imitate the conversations made by humans.
A chatbot is a normal computer program that enables the conversation via a simple chatbot interface. While making a conversation with chatbot it will try to understand the ongoing conversation, will understand the intention of the user and will respond accordingly. There are two types of chatbot; Command-Bots and Learning-Bots. In the case of not understanding the text by a chatbot, it will either reply via a long message or will not say anything.
Overview of Amazon Lex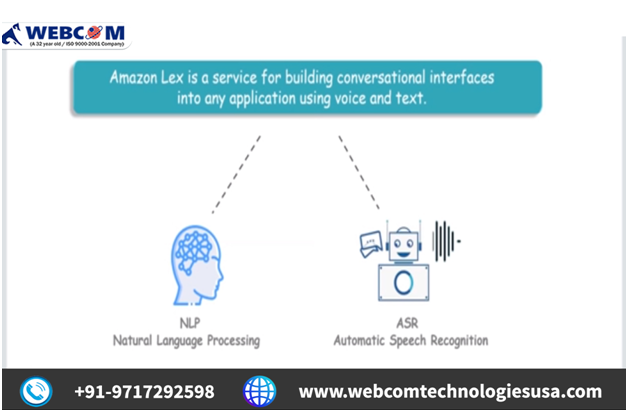 Amazon Lex is a service that creates a chatbot that results in the human-like conversation. Amazon Lex uses advanced technologies of deep-learning like Automatic Speech Recognition (ASR) that helps in converting the speech into a simple text whereas Natural Language Processing (NLP) is used to understand the meaning of the text.
So, Amazon Lex basically helps in developing a chatbot that does not require any knowledge of complex technology. Now let's have a look at the working of Amazon Lex from one of the use cases.
In this particular scenario, we'll see how a person can get the bank account information with the help of Amazon Lex.
· When a customer contacts the bank in order to get a bank account related information Amazon Lex will understand the request acquired by customer.
· After understanding the request Amazon Lex integrates with other services like Amazon Poli where he talks to the customer and asks him/her that whether he/she wants to see saving accounts or account balance.
· Once the response is given 'Lambda' function comes in the picture that combines with various services like Amazon DynamoDB and Amazon SNS which will in return retrieves the information.
· During all these processes all the logs and event that has That happened till now will be stored in Amazon Cloud Watch.
· Finally, all the asked details will be presented to the customer and desired results will be shown.
What are the benefits of using Amazon Lex?
· Amazon Lex gives consistent deploying and scaling.
· It is a very cost-effective platform that creates bots.
· Another benefit of using Amazon Lex is that it offers a console that is easy to use and provides predefined bots as well.
· It employees all the functionalities of deep learning.
SkyWebcom is the IT institute that offers AWS training in Noida offered by highly qualified trainers with 32 years of experience. Training of AWS at SkyWebcom is offered on the basis of live scenarios and trainers of the institute always remain updated with all the latest features brought in by the IT industry in order to provide advanced AWS training. SkyWebcom also provides AWS certification once the course is completed. SkyWebcom is considered as the best institute for AWS in NCR for so many obvious reasons. Along with the in-depth AWS training SkyWebcom also gives 100% placement assistance in top companies and prepares every candidate for several interview rounds.